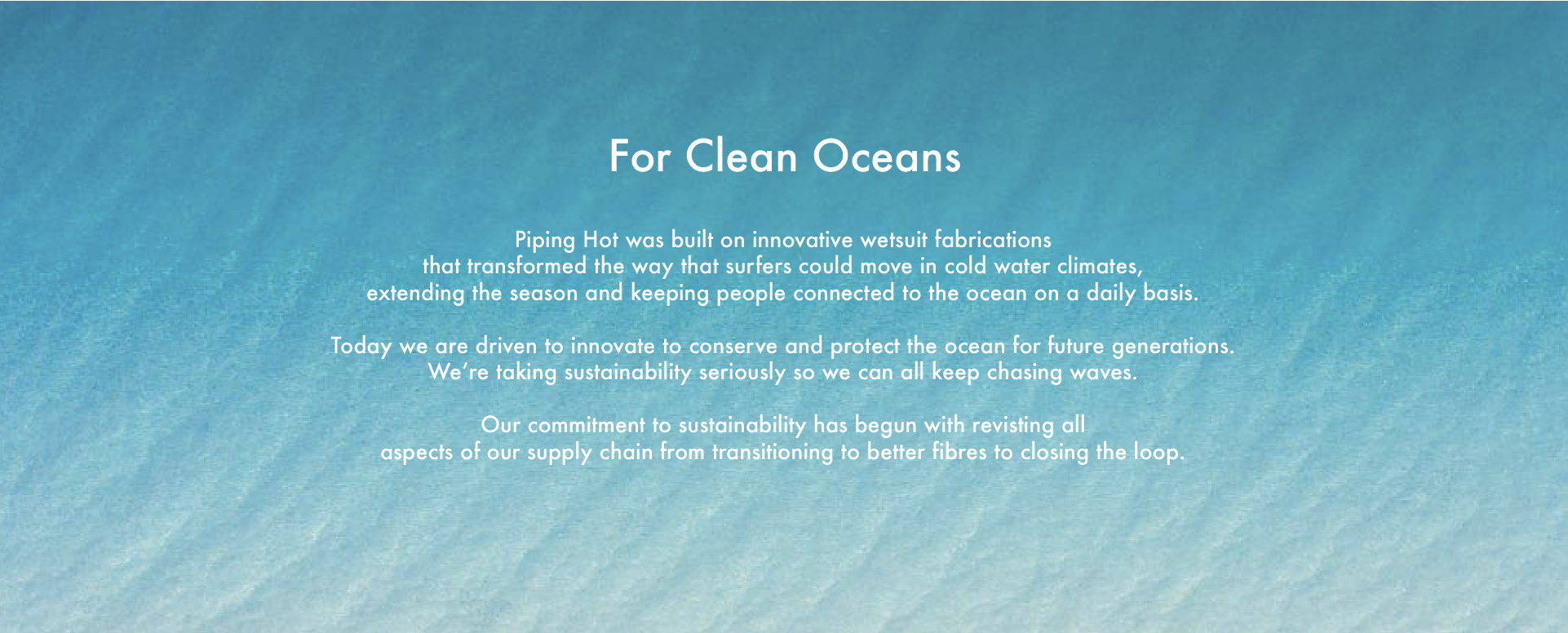 At Piping Hot, we're on a mission to change the way that fashion is made. Our mantra is simple, a lot of small steps make great leaps, so join us on our mission to make sustainable fashion affordable.
We're starting by making our swimwear with recycled plastic bottles.
According to the WWF, Australians use 130kg of plastic per person each year on average and only 12% of that is recycled. More than 8 million tonnes of plastic ends up in our oceans every year. We can conserve oceans by tackling the plastics problem, which is why our swimwear and activewear ranges are made from recycled polyester.
We are committed to making ocean-friendly choices and doing the best for the planet. We believe sustainability is essential for our future. Together we can close the loop on the circular economy.
In 2018 we launched our first swimwear range made from recycled plastic bottles. Available at Target Australia and priced from $15 to $39, in its first season we diverted 1. 7 million bottles from waste, offsetting using new petroleum to conserve water and energy in the process. In 2019 100% of our swimwear is made from recycled plastic bottles.
Offering affordable and sustainable fashion to you and your family so you can have fun in our oceans is just the beginning of Piping Hot's sustainability mission.
Our swimwear is made from REPREVE, a fibre that is made from 100% recycled materials
which means we are diverting waste from landfill and conserving water and energy.
CHOOSING MORE SUSTAINABLE FIBRES
We're in the process of transitioning our fibres to be more sustainable. We are particularly focusing on natural and recycled fibres to reduce the resource demands of our products. Some of our key initiatives include utilising recycled polyester, linen and BCI cotton.
Recycled polyester REPREVE®
Polyester is the most used fibre in the apparel sector, making up 49% of overall fibre production. We are moving away from using virgin polyester to recycled polyester. Recycled polyester uses fewer virgin resources, conserving water, energy and petroleum. In 2018 we started working with Repreve®, a fibre made from recycled materials including plastic bottles. So far, Repreve® have collected over 15 billion plastic bottles and turned them into a material that can be used by the apparel sector. Most studies show that the production of recycled polyester uses up to 53% less energy and uses 90% less water than virgin polyester production. Repreve® emits less greenhouse gases, conserves water and energy than virgin polyester, which makes it better for the earth and the ocean. You can find Repreve® in our womens, mens and kids ranges.
Microfibres are tiny fragments of fabric that shed from clothing when washed. They escape the filters of most washing machines and can end up in the ocean. For more information on reducing the microfibres that shed from your garments we recommend washing in cold water and using a Guppyfriend.
LINEN
Linen is a natural fibre made from the flax plant, which grows quite easily and requires little irrigation. In fact, some studies have shown that the production of linen uses twenty times less water than the production of cotton. Requiring fewer fertilisers and pesticides, linen is absorbent and breathable, making it the perfect choice for summer days. You can find linen in our womens and mens collections.
COTTON
As part of our work to transition to more sustainable cotton, we are supporters of the Better Cotton Initiative (BCI). BCI is the largest cotton sustainability program in the world. Taking a wholistic approach to producing cotton in a sustainable way, BCI licensed farmers produce cotton in a way that cares for the environment, minimising the negative effects of fertilisers and pesticides, and caring for water, soil health and natural habitats. BCI Farmers also commit to decent work principles - conditions that support workers' safety and wellbeing. So far there are 1.5 million licensed farmers and 2.5 million hectares of better cotton lint produced.
We have also started to integrate organic cotton into our ranges. Organic cotton is a more sustainable option than conventional cotton as it uses less pesticides which is better for the environment and the farmers growing it.